POLYCHIMCOMPLECT-M
Phone: +7 (499) 246-5380
Address: Bldg. 7, 27, Zubovskiy Bulvar, Moscow, Russia
E-mail: chemistry@phkomp-m.ru
Country: Russia
Sales of chemical raw materials for production of paintwork material and for other industries. Distributor of biocides under THOR trademark for paintwork materials, ACTICIDE trademark. DOW rubber ...
POLYTEG HOLDING, LTD.
Phone: +7 (495) 661-4441
Address: Bldg. 1, 22, Akademika Pilyugina Str., 117393, Moscow, Russia
E-mail: polyteg@polyteg.ru
Web: http://www.polyteg.ru
Country: Russia
Delivery of JOTUN powder coating and Henkel pretreatment chemicals from our warehouse in Moscow and other regions. Delivery of GEMA powder coating equipment, automatic and manual coating lines for ...
PRODUCTOS MINERALS PARA INDUSTRIA, S.A. PROMINDSA
Phone: +34 (976) 15-10-74
Address: Zaragoza, Centro de Negocios Somport, Portal 3, Of. 134-135, Spain
E-mail: fernandoprada@promindsa.com
Web: http://www.promindsa.com
Country: Spain
The biggest producer of Iron Oxide pigments in Spain that has its own mines and raw materials base. Our representative in the Russian Federation — www.frame-corp.ru
PROMCOAT, LTD.
Phone: +7 (812) 441-3831
Address: Office 220, 47, Prospekt Stachek, 198097, Saint Petersburg, Russia
E-mail: info@promcoat.ru
Web: http://www.promcoat.ru
Country: Russia
Promcoat is a distributor of Evonik (antifoamer, silicone resins, deaerators), Nuplex (alkyd and melamine resins), VENCOREX (isocyantes, coalescent), HONEYWELL (MEKO), SEC Emulsion (wax additives), ...
PULVER KİMYA SANAYİ VE TİCARET A.Ş

Phone: +90 (262) 643-00-01
Address: Gebze Organize Sanayi Bolgesi (GOSB) Tembelova Alani 3200 Sokak No.3201 Gebze 41400 Kocaeli, Turkey
E-mail: pulver@pulver.com.tr
Web: http://www.pulver.com.tr
Country: Turkey
Thermosetting powder coating manufacturing and selling through three continents.
PUMP UNION TRADE
Phone: +7 (495) 585-0965
Address: Office 115, 116, 3, Musorgskogo Str., Moscow, Russia
E-mail: info@pumpunion.ru
Web: http://www.pumpunion.ru
Country: Russia
Our company supplies pumps for liquids in the chemical and food industry, cosmetics and beverages, for use in the mining and processing industry, processing industry and for wastewater treatment.
QINGDAO PANTAI IMPORT& EXPORT CO., LTD.
Phone: +86 (532) 68957888
Address: Rm 519 International Business Center Zhengyang Rd Qingdao, China
E-mail: robin@chinapantai.com
Web: http://www.chinapantai.com
Country: China
PANTAI is serious&reliableTiO2 supplier from Qingdao, China. Professionally serving the paint industries in China and worldwide market with various Rutile/Anatas TiO2 for over ten years.
QUALITY CONTROL

Phone: + 7 (812) 677-9316
Address: Building 12-N, 8, Malinovskaya Str., Pushkin, 196602, Saint Petersburg, Russia
E-mail: info@qualicont.ru
Web: http://www.qualicont.ru
Country: Russia
Quality Control JSC offers quality control solutions on site and in laboratory for paint and coatings manufacturers. BYK-Gardner instruments, Q-Lab testing chambers, Taber abrasers, SpeedMixer mixers.
RADAR, POWDER COATINGS CENTER
Phone: +7 (843) 299-4127
Address: 49B, N. Ershova Str., Kazan, Tatarstan, Russia
E-mail: radar@radar-kazan.ru
Web: http://www.radar-kazan.ru
Country: Russia
Powder coatings spraying equipment: spray guns START, coating booths, polimerization ovens, transportation systems, turn-key projects, portable complexes DemoCoat, powder paints RADAR.
RADIAN
Phone: +7 (495) 550-0444
Address: 18, Akademika Zhukova Str., Dzerzhinskiy, Moscow Region, Russia
E-mail: radian@radian-group.ru
Web: http://www.radian-group.ru
Country: Russia
Delivery of titanium dioxide and ferrioxide pigments manufactured by Russian and foreign chemical companies from Moscow warehouse.
RCL (INDIA)
Phone: +91 9818822694
Address: 6/202, Facility Centre, Maya Puri, Phase II, New Delhi, 110064, India
E-mail: radugachem@gmail.com
Web: http://www.radugachem.com
Country: India
Sales of organic and inorganic pigments, emulsifiers, meko, titanium dioxide, optical brightners.
REGIONPROEKT
Phone: +7 (495) 775-2088
Address: 20, Milashenkova Str., 127322, Moscow, Russia
E-mail: regionproekt@bk.ru
Web: http://www.regionproekt.com
Country: Russia
Ecological safety of air environment. Paint-catching impact filters. Paint storage and high-temperature filters. Integrated air cleaning solutions for spray paint cabinets.
RHE HAENDEL ENGINEERING GMBH & CO. KG
Phone: +49 (2241) 907-0
Address: Alte Heerstraße 34, 53757 Sankt Augustin, Germany
E-mail: rhe-info@rhe-haendel.de
Web: http://www.rhe-haendel.de
Country: Germany
Manufacture, installation and commissioning of complete factories and plants for the manufacture of synthetic resins, polyvinlyacetates and copolymers, polyacrylates and wax emulsions.
RIF-MICROMRAMOR
Phone: +7 (3519) 31-44-64
Address: 26, Budakovoy Str., Eleninka Village, Kartalinskiy District, 455037, Chelyabinsk Region, Russia
E-mail: and8030@yandex.ru
Country: Russia
Marble extraction and processing. Production of microcalcite, marble sand and crushed marble.
RIPPERT ANLAGENTECHNIK GMBH & CO., KG
Phone: +49 (5245) 901-0
Address: Paul-Rippert-Strasse 2-8, 33442 Herzebrock-Clarholz, Germany
E-mail: info@rippert.de
Web: http://www.rippert.de
Country: Germany
For more than 40 years we have been planning, producing and fitting top-quality installations for all fields of surface, automation, dedusting and industrial fans. Our 350 employees make us one of ...
ROBERT KRAEMER GMBH & CO. KG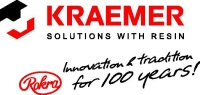 Phone: +49 (4402) 9788-0
Address: Zum Roten Hahn 9, 26180 Rastede, Germany
E-mail: info@rokra.com
Web: http://www.rokra.com
Country: Germany
Robert Kraemer is a manufacturer of resins for the lacquer, paint, printing ink and adhesive industries.
ROSHIMPROM
Phone: +7 (863) 231-8141
Address: 26B, 1st Lugovaya Str., 344011, Rostov-on-Don, Russia
E-mail: info@roshimprom.ru
Web: http://www.roshimprom.ru
Country: Russia
Roshimprom LTD. includes the trading and industrial companies of painting industry. We specialize in deliveries of high-quality microcalcite LinCarb, titanium dioxide, pigments and additives.
RUS CHEMICALS
Phone: +7 (812) 244-2696, 943-5812
Address: Office 457, 4, Gromova Str., 195196, Saint Petersburg, Russia
E-mail: info@ruschemicals.com
Web: http://www.ruschemicals.com
Country: Russia
Leading supplier of epoxy resins, TiO2 and CPVC into Russian market. We provide hi-end technical support and efficient logistics to our clients.
RUSKHIMSET
Phone: +7 (495) 730-1212
Address: Office 1806, 21, Novy Arbat Str., 119019, Moscow, Russia
E-mail: mail@rushimset.ru
Web: http://www.rushimset.ru
Country: Russia
Ruskhimset is the first national distributor of chemicals all over Russia and the CIS. The widest range of solvents. Chemicals and additives for solvent soluble and waterborne paints.
RUSNANO METROLOGY CENTER

Phone: +7 (495) 988-5659
Address: 10A, 60-letiya Oktyabrya Prospekt, 117036, Moscow, Russia
E-mail: info@rusnano-mc.com
Web: http://www.rusnano-mc.com
Country: Russia
RUSNANO Metrology Center is a center of competence in providing metrology services, measurements and testing of high-tech products and consulting innovative companies according to the latest ...