Preview
Interlakokraska 2018. The 22nd edition of the International Exhibition for Paints and Coatings
The 22nd edition of the Interlakokraska International Exhibition for Paints and Coatings, Raw Materials, Equipment and Technologies will run at Expocentre Fairgrounds (Forum Pavilion), Moscow, Russia, on February 27 through March 2, 2018.  

Interlakokraska is a trade show with over 20 years of history. Its international recognition is confirmed by the logos of UFI, the Global Association of the Exhibition Industry, and RUEF, the Russian Union of Exhibitions and Fairs. It is also a winner in the International Recognition nomination in the Chemistry, Polymeric Materials category among Russian trade shows.
More than 230 Russian and foreign companies will show their products and solutions to more than 10,000 professional visitors representing such industries as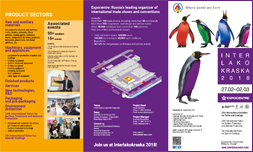 Download the Interlakokraska booklet
construction, architecture, building renovation
chemical industry
oil and gas industry
metalworking
car building and repair
woodworking
furniture industry
shipbuilding and repair
aircraft building and repair
defense industry  
road construction, and other industry sectors.
The product sectors will have some additions in 2018. The Equipment, Machinery and Appliances sector will offer feeding equipment and equipment for paint and coating production. Biobased adhesives, sealers and coatings will be added to the End Products sector. The latest solutions and products will also be shown at the 12th edition of the International Salon for Surface Treatment, Antirust Protection, and the 7th edition of the International Salon for Special Coatings. Find more about the product sectors>>>

In 2018, Interlakokraska introduces the Employment Center. On exhibition days, you can see the current career opportunities offered by the exhibitors, place CV, and receive professional consultations.
The exhibitors will come from Belarus, Belgium, China, Czechia, Finland, Germany, India, Italy, the Netherlands, Poland, Russia, Slovenia, Turkey, and other countries.
The latest technologies and new engineering solutions will be demonstrated by BPC Boyasan Powder Coating, BYK Chemie Gmbh, Comec Group S.r.l., Eisenmann Anlagenblau Gmbh&Co KG, Evonik, Galatek A.O., IBA KIMYA SANAYI VE TICARET A.S.,  J.De Vree& Co.N.V, Manali Pigments, Nordkalk Corporation, Sudarshan Europe BV, Wacker Chemie AG, Special Coatings Gmbh, SOP International D.O.O, Netzsch, Meffert Production, Allnex, Anticor Composite, Afaya, Belneftehim-ROS, EuroChem, Kemur Chemicals, Covestro, SIBUR, Tecsa, HOMA, and other manufacturers and suppliers.
A rich program of supporting events will be a perfect source of information about the most relevant issues of the paint market, new developments, and application fields.
The 10th Anniversary International Coatings Forum is expected to cover
the performance of the pain and coating industry in 2017, the industry's prospects, and evolution of filming agents,
innovations for additives for industrial, construction and other special paints and coatings,  
color organic and inorganic, anticorrosion pigments, functional fillers.
The International Salon for Special Coatings will feature a series of exhibitor presentations.  
Other expected events are  
the Conference on Safety and Quality of Paints and Coatings,
the 3rd Competition of Projects of Young Scientists,
the round table for manufacturers and consumers of paints and coatings,
the annual meeting of the Centrlack Association of Manufacturers, Suppliers and Consumers of Coatings and Paint Raw Materials, and other important and interesting events.
Join us at the main industry event of 2018 – the Interlakokraska international exhibition!
---