ROKS LLC, an exhibitioner, will present a unique functional additive to produce paints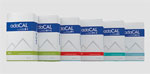 Interlakokraska-2018, which is the 22nd international exhibition of varnish and paint materials and coatings, raw materials, equipment and technologies for their production, will be held in Moscow from 27 February to 2 March 2018. This exhibition is rightfully deemed to be the largest industry exhibition in Russia.
ROKS LLC will take part in such exhibition for the first time to present titanium dioxide substitute, i.e., precipitated calcium carbonate ADACAL B 1. When added to a paint formulation, this component improves mechanical properties of the paint (spreading capacity, attrition resistance, lower risk of cracking), extends the product shelf life, provides high brightness and whiteness and makes production of such paint more cost effective and economical.
You are welcome to our booth ¹FA010 next to the pavilion entrance on the right side.
---