The quality of Belarusian paintwork materials meets international standards
04 / 03 / 2022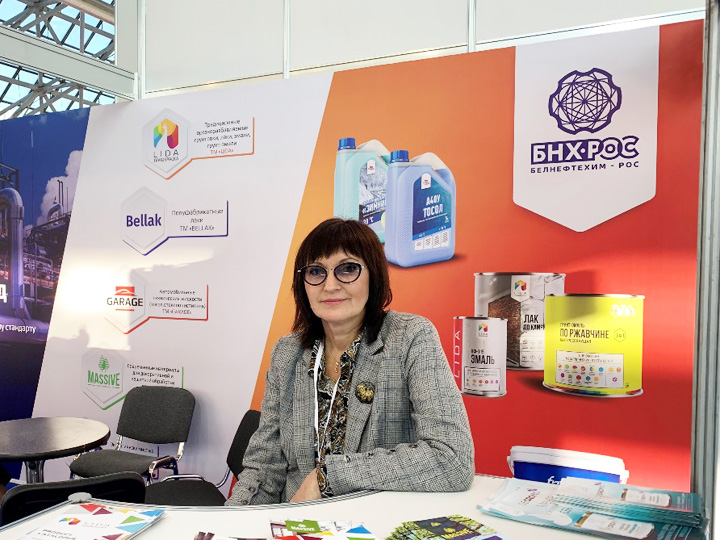 Lakokraska OJSC from Lida, an enterprise with more than half a century experience in the production and sale of paints and varnishes, is a permanent member of the Interlakokraska exhibition. Today the company's portfolio includes more than 2,000 products.
This is a large range of materials for various purposes to be applied on different surfaces: concrete, metal, wood. These are, first of all, traditional, solvent-borne varnishes, primers, enamels of the Lida brand. The company also presents the Bellak© semi-finished varnishes. As a result of careful work of the factory technologists, weatherproof, corrosion-resistant, chemical-resistant coatings of various colors are manufactured; they can be used both in industrial and household spheres.
"Our products are used in a variety of industries: construction, railway, petrochemical, -- said Marina Holyavskaya, a representative of the Marketing Department of the enterprise. -- In addition, we supply a wide range of products for retail. Consumers have highly appreciated our Fresco paint, which is ideal for highly allergic individuals due to its environmentally friendly and hygienically safe formulation.
We take part in the Interlakokraska exhibition every year; this year we participate together with Belneftekhim-Ros, our representative office in Russia. We always have several objectives at the exhibition: to show our potential, our capabilities, and new development directions. And secondly, of course, we plan to have meetings with our partners and establish new contacts. The first day of the exhibition was positive, in my opinion: since early morning people have been coming to visit our stand. We have already met colleagues from Kazakhstan, Mongolia, and various Russian regions."
---