Joint meeting of industry associations of Russia and India at Interlakokraska 2017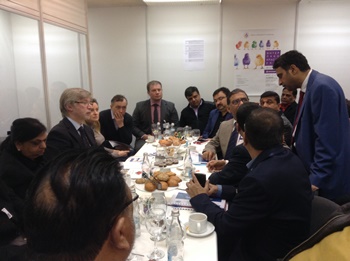 Within the Interlakokraska 2017 International Exhibition for Paints and Coatings, Expocentre Fairgrounds hosted a joint meeting of the Russian Centrlack Association and the Indian Industries Association. The meeting was devoted to prospects of cooperation between India and Russia in the paint and coating market.
Director of the Centrlack Association Gennady Averyanov was hopeful that the meeting would help the parties to find common interests, and identify problems and solutions. "If the quality of your raw materials is good enough for our products and the prices are competitive, then you can find Russian partners," said Mr. Averyanov to his Indian colleagues.
Other discussed problems were the existing customs restrictions in Russia and India, and business impediments they create, the export of Russian-made paints and coatings to the Indian defense industry, and creation of joint ventures both in Russia and India.
See more at http://www.interlak-expo.ru/en
Press Service, Expocentre AO
---