Online registration guide
Dear visitors,
1. Register online and receive your e-ticket
For the purpose of online registration, please enter your email on the online registration page, read the procedure of visitor registration for the events organised by EXPOCENTRE AO, and express your consent with the procedure by activating the check box and pressing the "continue" button in the pop-up window (see the picture below).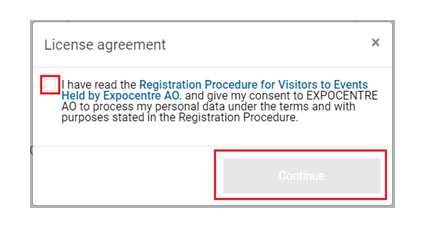 Answer questions of our questionnaire and either download or print your e-ticket directly from the online registration page. You will also receive a copy of your e-ticket to the email address indicated in the course of your online registration.
2. Exchange your e-ticket for a visitor badge
Please present a printed copy of your e-ticket at the registration desk during your first visit to the exhibition and receive an individual visitor badge, which will give you access to the exhibition throughout its period. You can also show your e-ticket from the screen of your smart phone, a tablet computer, or any other device.
FAQ
How to add a company to the online registration questionnaire?
A message confirming registration in the system is not received.
Link to the email address confirmation not working.
Message containing the e-ticket not received after the questionnaire was filled and the registration was confirmed.
Forgot my account password.
Unable to open my e-ticket.
Unable to print my e-ticket.
What browsers are supported by the online registration system?
Online service support
If you have any questions, please contact the online service support.
When contacting the online service support, please indicate
1) the name of the exhibition,
2) the login (e-mail),
3) the name of the registered person,
4) a brief description of the problem.
We will be unable to help you complete the online registration and receive your e-ticket without that!